A Little About Lessons
We offer half hour lessons for adults and children (ages 5 and up). But ask your instructor if you are interested in 45 minute or 1 hour lessons.
You can learn fiddle tunes in a number of styles including: Old Time, Irish, Metis, French (Quebec), Cape Breton, Bluegrass, Scottish and even modern fiddle tunes!  
In the fiddle tradition tunes are learned by ear and then memorized but understanding basic theory and knowing how to read sheet music are important too. 
We teach using a combination of these approaches.  
There will be a final concert at the end of June and we try to organize a few fiddle jams or performances throughout the year.

To speak to someone about starting fiddle lessons call (306) 789-6484 and leave a message on mail box 3 or e-mail Tahnis by clicking here.  Be sure to include your phone number in your e-mail message.
Our Teachers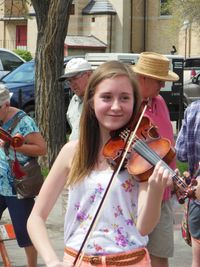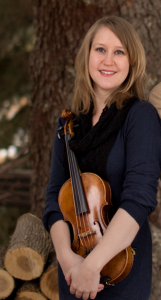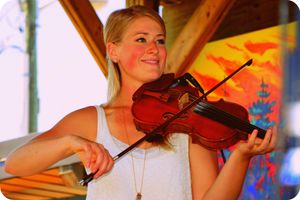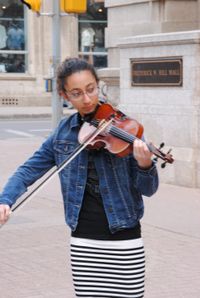 Shanaya Cossette
I have been playing the fiddle for 8 years and have been teaching for one year. I am also a student at Music In The House. I play with my fiddle group called Pegged Out and the five of us have a lot of fun and play at various events, fundraisers, and gigs such as the Highland Games, Mosaic, and World Fiddle Day. 
One of my goals as a teacher is, I would love for my students to enjoy playing the fiddle as much as I do. I believe a passion for music lives forever!  



 
Tahnis Cunningham
Tahnis has been teaching fiddle since 2001 and has been at Music in the House since 2009.  Music has always been an important part of Tahnis' life. She began playing and performing with her family as the Cunningham Family Band when she was very young. She currently performs in a duo with Ray Bell and in a fiddle ensemble called DownBeat. Tahnis has been a fiddle instructor at various fiddle camps and workshops across Western Canada and enjoys teaching and calling old-time dances.
 
Alysen German
Alysen started playing fiddle at age 8 and for many years attended the Emma Lake Fiddle Camp in Northern Saskatchewan.  There she was fortunate to have learned from great artists including; Gordon Stobbe, Calvin Volrath, John Arcand, Patti Lameroux, Shamma Sabir, Bruce Molsky, Stephanie Labbe, and Buddy Spicher.  Alysen plays in her family band along with her Dad and brother.  They perform at concerts, summer music festivals, and weddings.  She recorded her first CD, titled "From Them, To Me, To You," at the age of 17 and is currently working on music for her second.  Her musical styles include Traditional Old Time, European, Metis, Celtic, Appalachian, Bluegrass, Country, Folk and Classical.  Alysen has been teaching fiddle at Music in the House since 2014 and loving every minute of it!
Sierra Haynes
‪Sierra is an avid musician...but she especially loves her fiddle! She's studied with many nationally renouned fiddlers like Karrnnel Sawitsky, Mairi Rankin, Sierra Noble, and Stéphanie Labbé; because of this she has played in many styles fiddling. She has placed 1st and 2nd in the Weyburn Old Time Fiddle Contest. She studies classical violin at the Conservatory (is a member of the South Saskatchewan Youth Orchestra), and fiddle at MITH. She loves any opportunity to learn, grow as a musician, and jam.
‪Other than music, Sierra can be found in a theatre, doing improv, or hosting RadioActive on community radio.